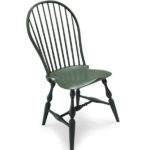 Designed by David Sawyer, the Balloon Back Side Chair is based in the traditional American Windsor style with a delicate and refined proportions. It features a hand-carved seat, riven back and wedged joinery for maximum durability and comfort..
SPECIFICATIONS
width 21″
depth 17″
height 37″
seat width 17″
seat depth 16″
All of our chairs are custom made and can be crafted to your height, color and design specifications.
Why Handmade?
The experience of a handmade chair is something that can be hard to verbalize. The subtle differences and movement in our chairs make them feel alive. Hand-carved seats provide a deeper, more comfortable place to rest, and the flexible, shaved spindles invite you to lean back and feel the movement of the chair.
Place an Order or Request More Information