We are committed to keeping traditional chairmaking techniques alive, and sharing knowledge that has been passed down over hundreds of years through our in-person classes.
All classes are taught by George Sawyer at our workshop in South Woodbury, Vermont. Participants learn the fundamentals of green woodworking (working with wood that has not been kiln dried) to build their own Windsor chair using one of Dave Sawyer's original chair designs. All materials and tools are provided, and students leave the class with an assembled chair that will last a lifetime. Please contact us for available housing options.
In each class, attendees learn:
traditional green woodworking techniques
splitting out logs and spindle shaving
seat carving with hand tools
steam bending
leg turning
Contact us to be added to a waitlist or to be notified when courses are scheduled for next year.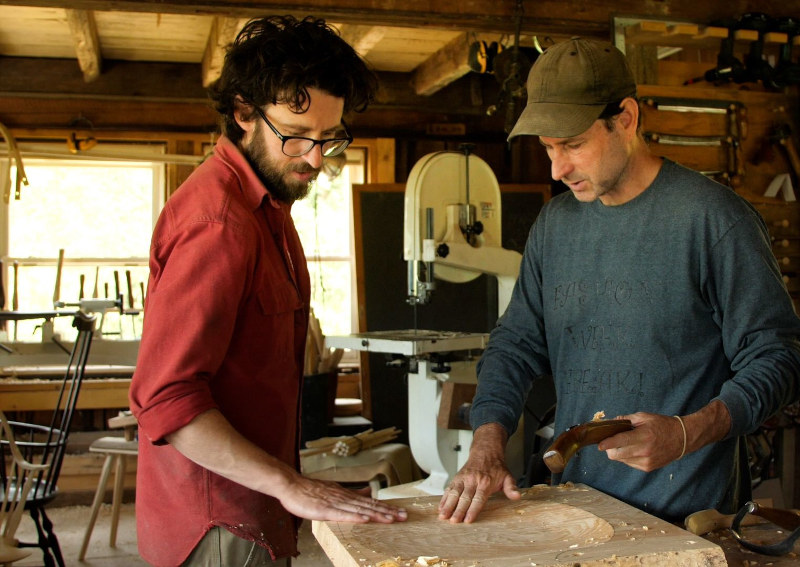 "I left Vermont with more than a chair – I also had a feeling of being part of a wider community of chairmakers and green woodworkers from all sorts of different backgrounds and homes."
– Ted M.
Side Chair Course Schedule
This a rough outline – the pace of the class will be adjusted as needed.
The Arm Chair course schedule is the same, but with an additional day. Due to the added components and complexity, some steps will take longer and have to carry over to the next day.
We start the week by riving spindle blanks from a white oak log, learning the strategies and techniques for the basis of most green woodworking – follow the grain! By the end of the day we will have shaped all of our spindles on the shave horse using the drawknife and spokeshave.
Building on the techniques learned in making spindles, pieces for back bows or crests are riven from white oak and shaped on the shave horse. The pieces are then steamed and bent over wooden forms to dry and cure.
Because of the time and practice that turning requires, we will spend a full day working on the lathe. By devoting an entire day to lathe work, the student can complete a full set of bamboo style turnings. I will walk you through the basics of bamboo style turnings, demonstrating and watching your technique throughout the day. Our turnings are made from straight grained hardwood. I do the rough turning in advance so that you have time to get down to the finer work.
The seat of a Windsor is it's most defining feature, and most complex component – ours are carved from a single plank of eastern white pine. Carving progresses methodically step by step – layout, drilling leg holes using bit and brace, fitting legs to seats, roughing with the adze, shaping with the inshave and drawknife, and smoothing with the travisher and spokeshave.
Assembling the undercarriage! We start the day by mapping out and drilling holes for stretcher mortises, and bang everything together using hide glue and wedges. The feet of the legs are scribed level, and trimmed, followed by cutting the tops of the legs flush to the seat.
Final assembly! Back pieces come off their forms, and are tenoned to fit the seat. We give the spindles their final cleanup and shaping, and then dry fit everything (a lot of pieces have to come together at once, so this dry-run is critical). Once we're certain that everything will assemble smoothly, it's time for more hide glue and wedges.
Sign Up or Request Information